Fundraiser through Nilaamazha Live Music Show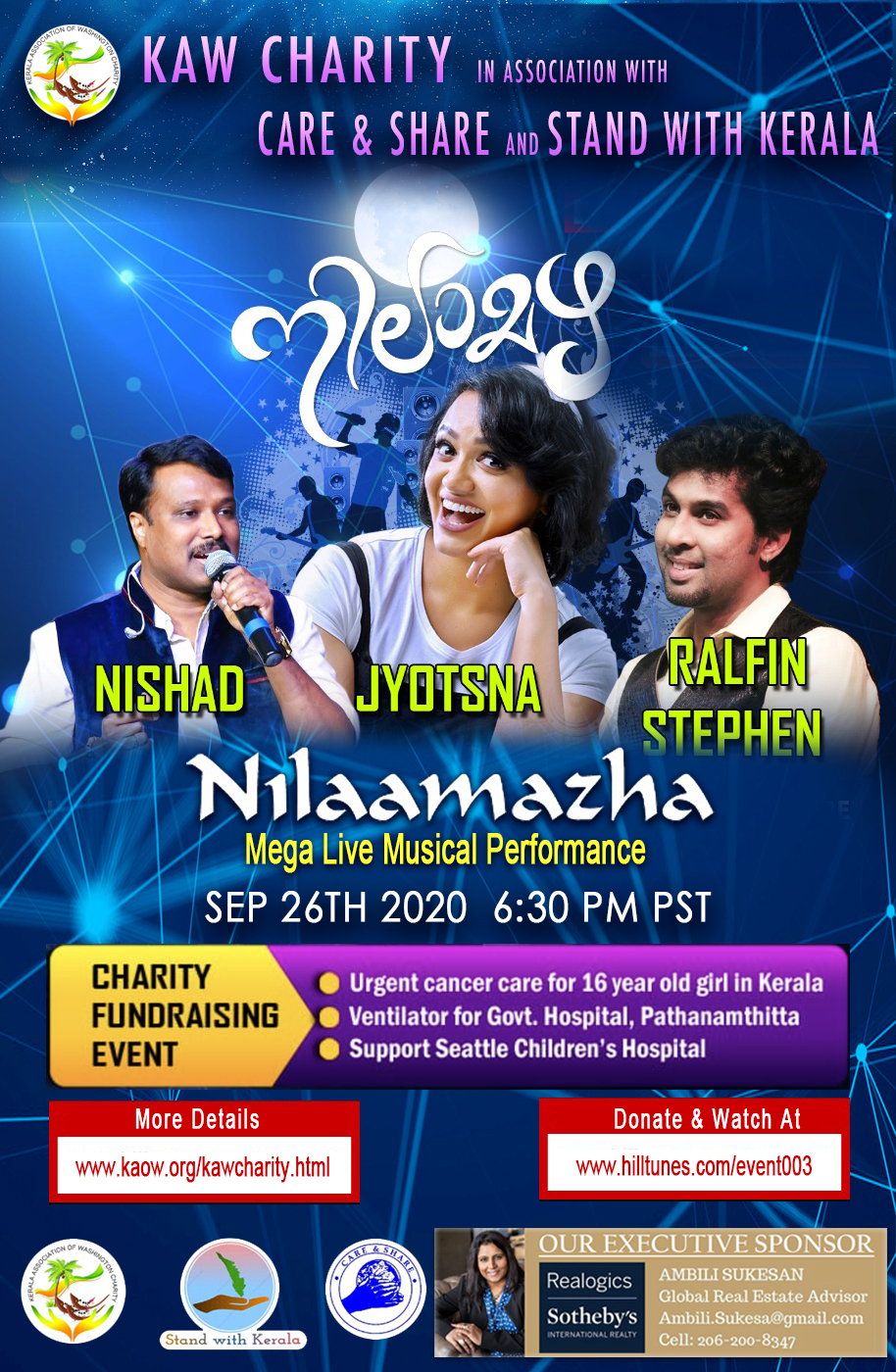 KAW Charity presenting Nilaamazha - Live Musical Show with renowned playback singers Jyotsna Radhakrishnan, K.K Nishad, Ralfin Stephen (Keyboard) & band on September 26th Saturday 6:30 PM Pacific Time. We are partnering with Care & Share as well as Stand with Kerala (Dallas) to raise $30,000 in 10 days for the following causes.
($20,000) Urgent help for a 16 year old girl suffering from acute myeloid leukemia (Our original target was $10,000, but as the girl is being moved to Vellore Hospital on 9/27 Sunday and as she needs a Bone Marrow Transplant as well, the total needed to support her is over 15 lakhs)
($5,000) Donate a Ventilator for Pathanamthitta Govt Hospital
($5,000) Seattle Children's Hospital
Kindly purchase your tickets / make your donation here - This platform will enable us to give you a high-quality live show. If you wish, you can also make the donation directly to the KAW Paypal account at treasurer@kaow.org (from your PayPal A/c or through the Donate Button below) or through the KAW Charity GoFundMe Page. If your employer supports matching of donations, please choose the donations through benevity ( Microsoft/T-Mobile) and send the receipt of your payment to KAW Charity. We will reply with confirmation and ticket details.

Pls visit the Nilaamazha Page for details on how to watch the show and FAQs.
---
Urgent help for a 16-year-old girl suffering from acute myeloid leukemia
Megha is the youngest daughter of a clerical worker in the sales department of a distributor based in Ernakulam. She showed the symptoms of chronic coughs and on further evaluations, she was diagnosed with acute myeloid leukemia - a form of blood cancer. For the first phase of the treatments, the estimated expenses are around Rs 10 lakhs (~$15,000). Chemotherapy has been started. Further tests are done, and its likely that she may have to go through bone marrow transplant. If thats required expenses would go up to Rs 25 lakhs (~$35,000). We are trying to help the family with the first phase of the treatment. With the savings family have, and with the local fundraising they have almost around Rs 3 lakhs. Through this fundraiser we are trying to find the remaining Rs 7 lakhs ($10,000).
Update Sept 18, 2020:
With the new test results, Megha needs to go through bone marrow transplant. Luckily her father has been identified as a perfect donor match. Bone marrow process pushes the total cost to Rs 22 - 25 lakhs (~$30,000). Another result is awaited from a lab in Delhi. We will have the new treatment estimate from the doctor once this result is available around Sept 22nd

FAQ:
What's the plan to transfer the funds?

For Megha, we will transfer the funds to Pallium India (www.palliumindia.org) and they will distribute the funds either directly to the hospital or reimburse based on the bills. Care & Share has been working with Pallium India for the past 14 years, and have supported many individuals through Pallium India.
For Ventilator, we will be working directly with the Pathanamthitta District Collector's office.'
---
On top of Megha's case, the fundraiser will also support equipping the Govt hospital in Pathanamthitta with a ventilator and supporting Seattle Children's Hospital. Ventilator for Pathanamthitta Govt Hospital